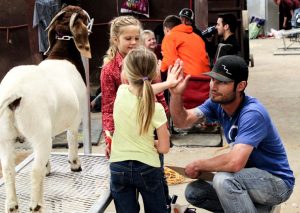 It is our goal to provide high-quality educational programs. In order to do this, we would like to focus our attention on the main events in each state, where not only high attendance is probable, but also, where a more diverse crowd will be reached. If you have an event, such as a state fair, beef expo, or major jackpot where a Stock Show University clinic would be beneficial to the exhibitors in your area, please let us know.
For clinics in our southern region (Texas, Oklahoma, Arkansas, New Mexico, Louisiana, Mississippi, Arizona, Alabama, Georgia, Tennessee, South Carolina, North Carolina, Florida), please contact Tylee Williams at [email protected].
For any other regions, please contact Stock Show University Manager, Taylor Harrison at [email protected]. Please submit requests at least three months in advance. 
Thank you for your interest in Stock Show University!
Please fill out the form below.